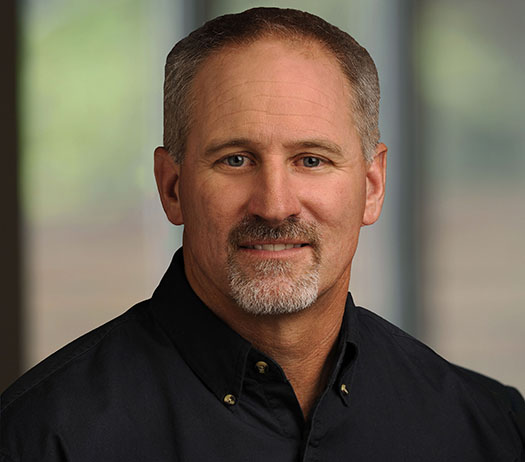 "I really enjoy what I do. I get a tremendous amount of satisfaction from the entire process. Seeing a building come to fruition, and knowing I was a big part of it, is extremely fulfilling. It's why I got into the trades in the first place."
Posted on September 24, 2019
Leading by example, maintaining personal connections are top drivers
By Chris Maday Schmidt
With more than 35 years in the construction industry, Mike Harney joined Blach Construction with a special background in handling projects for Monterey Bay attractions, such as The Preserve, Bernardus Lodge and the Stevenson School and, most recently, the Monterey Bay Aquarium Bechtel Center for Ocean and Leadership, located in Monterey, California. In his role as superintendent, Harney oversees all field construction and operations and is responsible for building layout and coordination, subcontractor performance, quality assurance and jobsite safety. Join Construction Superintendent as Harney talks about the industry's biggest changes he's experienced firsthand, how he approaches distractions on the jobsite and the key to great building.
(Q) You recently completed construction of the Monterey Bay Aquarium Bechtel Center for Ocean and Leadership. What types of unique challenges did you face on this project?
The location of the project on Cannery Row was definitely a challenge. Since it was just down the street from the Monterey Bay Aquarium, which is the region's biggest tourist attraction, and bisected by a very popular recreation trail that couldn't be shut down for any great length of time, our corner site was heavily trafficked. Pedestrians, bikers, tourists and cars, you name it. Also, the site was sloped; we had to contend with serious height regulations and the saltwater storage tanks – part of the building's marine life support systems – were in an extremely tight space, so we had to put some confined-space protocol in place when working in that area.
(Q) What do you enjoy most about being a superintendent?
I really enjoy what I do. I get a tremendous amount of satisfaction from the entire process. Seeing a building come to fruition, and knowing I was a big part of it, is extremely fulfilling. It's why I got into the trades in the first place.
(Q) Talk a little about what takes place during a seismic retrofit as far as best practices.
During a seismic retrofit the main focus is to complete the work without destroying any of the existing structure and essentially creating more work for ourselves. In the case of the historic Carmel Mission [Basilica, built in 1774] project, our mantra was, "Do no damage."
(Q) You have also built high-end residences – how does the owner/contractor relationship differ in that scenario?
I'm not sure it differs much, really, as you still have to develop a rapport. On the commercial side, you're typically dealing with an owner who may not be intimately involved with the project. It's business, so efficiencies play a great role. But a residence is 100% personal. Efficiencies may or may not be a factor, but emotions always are.
(Q) With over three decades of supervisory and management experience under your tool belt, what has been the biggest change(s) you've seen in the industry firsthand?
Hands down the biggest change in our industry has been the addition of technology into construction. When I started there were no cell phones, fax machines or computers. Ironically, while these enable faster information sharing and transfer, a building can only be built at the same rate. That said, I have definitely adapted and these "new tools" have simplified communication and connectivity. Also, BIM and other associated virtual construction tools have been great for clash avoidance and coordination of work.
 (Q) Have you personally experienced the effects of the worker shortage and, if yes, how has Blach Construction met this industry-wide concern head on?
The worker shortage is industry-wide. We are all feeling the effects of the lack of qualified labor, subs included. Blach has been around for almost 50 years and we've always made the people we work with a priority. We depend on them to help us build great quality buildings, so we pay on time. We're active with the unions. We maintain a personal connection. And as a result, they take care of us and our jobs, too.
(Q) How do you moderate jobsite distractions; e.g., cell phones, social media, etc.?
Moderate or mitigate? [smiles] There really is no getting away from the cell phone on the jobsite unless you turn it off or are out of range. And actually, it hasn't been too much of a concern. I run professional crews who are there to get a job done. We have an understanding that personal calls, texts, emails or social posts are limited to breaks and lunch only.
(Q) Which one of your projects are you proudest? Why?
Honestly, I am proud of all of my projects. Probably the one that stands out the most, though, is the Carmel Mission and everything I've done to restore one of the oldest structures in California. Perhaps it is my local connection to it. I grew up close by and went to elementary school maybe a quarter of a mile away. It has been inspirational to have been a part of something that received so much interest and accolades.
(Q) When you're not on the jobsite, what's your favorite pastime?
I'm an outdoorsman. I hunt, fish, cycle, backpack. I love almost anything that is outdoors.
(Q) Describe your go-to tech tool that has made your life—and your job—easier.
[Laughs] None of them have really made any of it easier; they just keep me busier. Truthfully, it's the smartphone. It really is the most important tool these days for getting the job done more efficiently because you can be connected via email, text or phone to discuss ideas, solve problems and generally be in touch from anywhere on – or off – the jobsite.
(Q) How do you employ safety buy-in from your team on the jobsite?
Safety is a critical component of construction, no matter the job. You can never forget about it or look the other way. Blach has set the groundwork well. Our company culture is deep-rooted in safe practices, so buy-in from my teams is typically seamless. But that said, I hold myself accountable, so I make it a priority to model good, safe behavior. I practice what I preach and figure doing so will serve as constant reminders to my teams and will eventually result in them doing the same. Safe practices have got to be second nature on the jobsite.
(Q) What would you tell up-and-coming superintendents interested in joining the ranks?
Go for it! It's a great career opportunity that offers longevity, steady employment and higher pay. You have the ability to mentor on a daily basis and get a great sense of gratification every time you drive by a structure you were responsible for building.
(Q) How do you see the role of superintendent evolving?
While you have to stay open to training and learning new techniques, I really hope it doesn't stray too far from where it is now. There is always going to be a need for a craftsperson, for someone who was brought up through the trades via an apprenticeship. The trades are key to great building. 
Read the article on Construction Superintendent News.