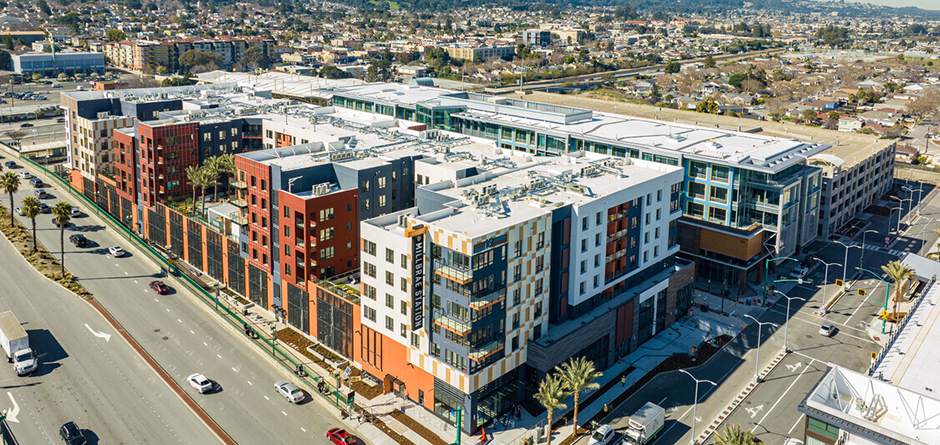 "Seeing a project that fundamentally aligns with our purpose to enhance communities completed is immensely gratifying."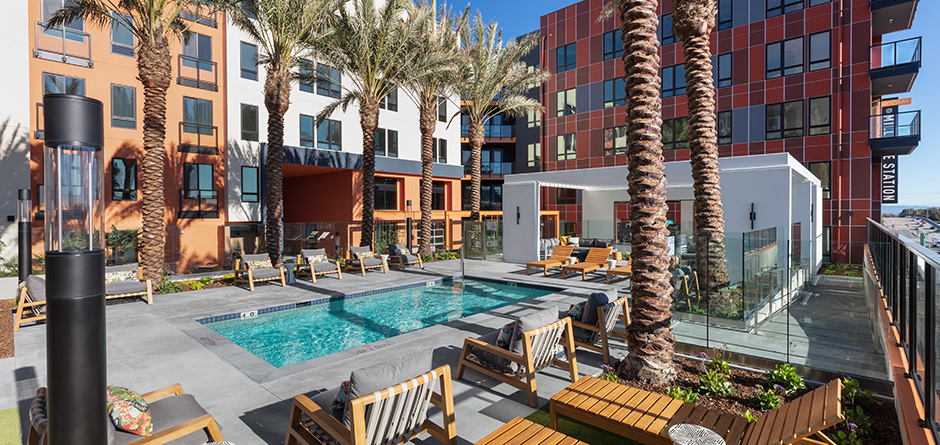 "Seeing a project that fundamentally aligns with our purpose to enhance communities completed is immensely gratifying."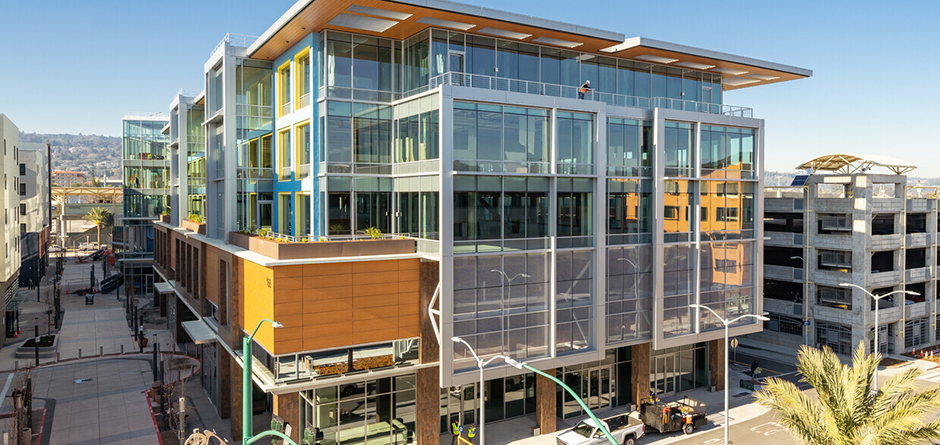 "Seeing a project that fundamentally aligns with our purpose to enhance communities completed is immensely gratifying."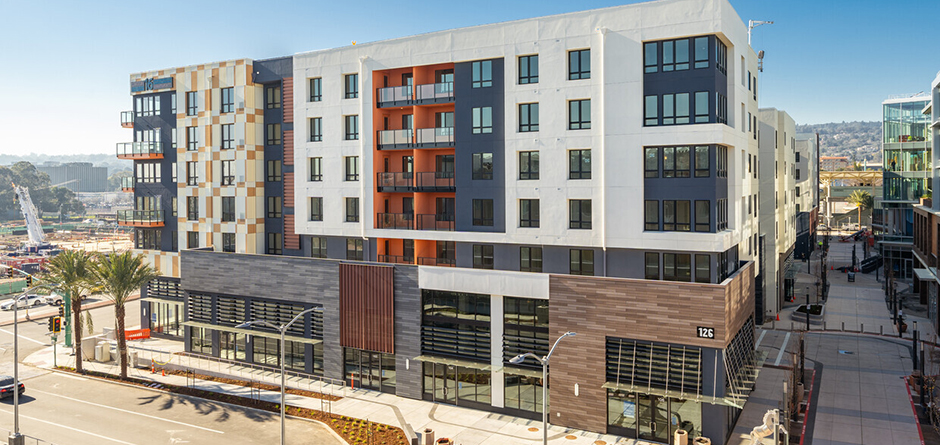 "Seeing a project that fundamentally aligns with our purpose to enhance communities completed is immensely gratifying."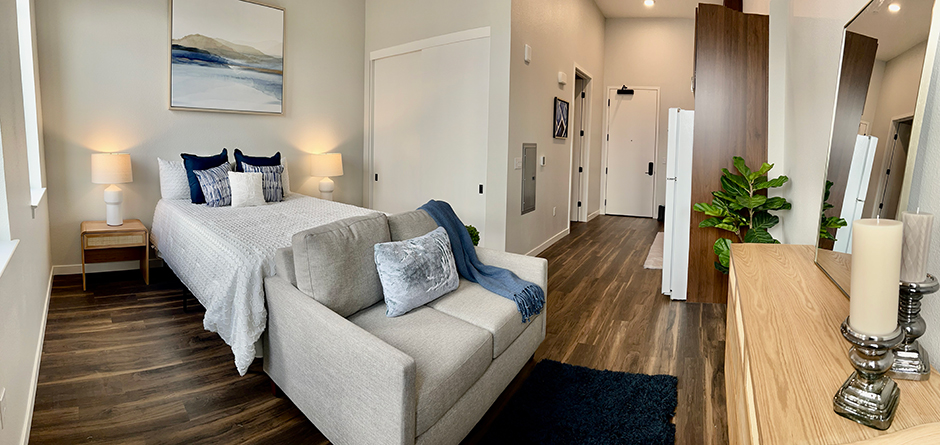 "Seeing a project that fundamentally aligns with our purpose to enhance communities completed is immensely gratifying."
The joint venture construction team of Blach Construction and
Cahill Contractors LLC (Blach/Cahill) are proud to announce the completion of the highly-
anticipated Gateway at Millbrae Station (GMS). This award-winning project was developed by Republic
Urban Properties and provides critical affordable, Veterans-preferred and market-rate housing, a
hotel and plenty of walkable shops, restaurants, office and outdoor space. One of the largest
transit-oriented developments (TOD) in California, GMS is steps away from the Bay Area's busiest
transportation hub that includes access to Bay Area Rapid Transit (BART), Caltrain and SamTrans.
"We are honored to be a part of this transformative project alongside our trusted partners Cahill
Contractors, Republic Urban Properties, the City of Millbrae and the many others who made this
community-defining venture a reality," said Dan Rogers, president of Blach Construction. "Gateway
at Millbrae Station embodies our collective commitment to forward thinking, innovation and close
collaboration. Our steadfast approach cemented the smooth delivery of this massive and complex
project, even in spite of ongoing and unforeseen obstacles, most notably the global pandemic and
resulting supply chain constraints."
Located just off the Highway 101 corridor in close proximity to San Francisco International
Airport, GMS includes 300 market-rate apartments (Station 16), 100 affordable apartments – 80 of
which are Veterans-preferred (The Rollins), a 164-room Residence Inn® by Marriott, 150,000 sq.ft.
of Class-A office space, 44,000 sq.ft. of ground-floor retail and restaurant space, as well as new
public open spaces, plazas, pedestrian/bike paths and dog parks. While GMS addresses significant
Bay Area housing needs, it also offers residents and visitors a range of valuable amenities, as
well as easy access to a comprehensive transportation network, including BART's largest transit
center, Caltrain, SamTrans and others.
"Gateway at Millbrae Station is an urban planning success story," asserts Michael Van Every,
president and managing partner of Republic Urban Properties. "This project combines every
attractive asset class in commercial categories – hotel, office, retail, residential. The vision is
ambitious; the key to success in a public/private partnership like this one, however, is how you
work together to make that vision a reality."
Built amidst the challenges of the pandemic, Blach/Cahill employed union labor and in-depth
research on innovative building solutions to keep the project aligned with schedule and budget
targets. The project team took great pains to streamline delivery through its close coordination
with numerous stakeholder groups and collaboration across each of the project's elements. To
maximize opportunities for efficiency on a project of this scale, and to enhance quality and worker
safety, the team utilized a pre-engineered, prefabricated light gauge metal frame building system
on the hotel and both apartment structures. This allowed the project team to address challenges,
including price escalation, materials shortages and the use of sustainable materials.
Within the Station 16 apartment building, the team sourced a state-of-the-art automated parking
solution. Benefits of this advanced technology are significant, initially during design and
construction and immediately upon completion. Quite simply, the space-saving mechanical lift system
Blach/Cahill employed freed up valuable real estate they were able to then use for retail and
office space. Simultaneously, it maximized the amount of available parking for residents of Station
16 and visitors who work, shop or dine at GMS.
Completed in less than three years, very close to its original schedule and firmly on budget, GMS
has been designed to positively impact the City of Millbrae and greater Bay Area as a whole,
offering a host of amenities and opportunities. To this end, the modern, new community has already
earned two well-deserved awards, including the coveted San Francisco Business Times' 2022 Real
Estate of the Year. "Seeing it completed – a project that fundamentally aligns with our purpose to
enhance communities – is immensely gratifying. We will be proud of our
involvement with the Gateway at Millbrae Station for years to come," stated Rogers.