Builder Launches Dedicated Service Pledge to Sacred Heart Community Service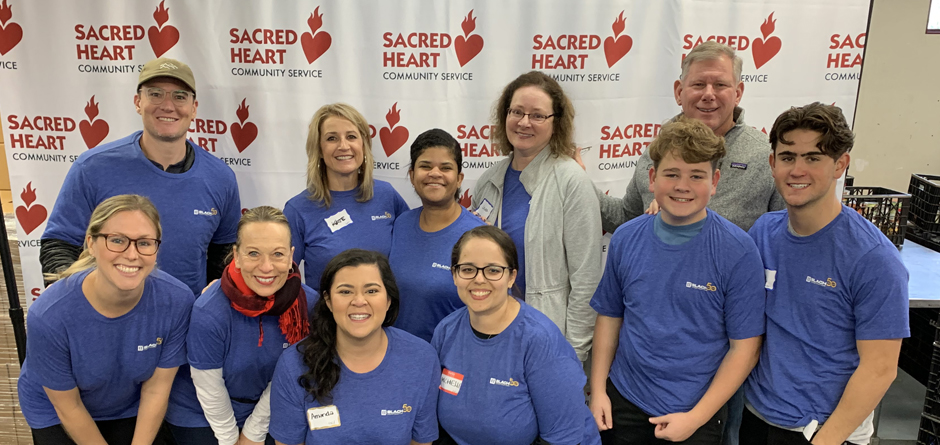 "When we polled our colleagues on how they would like to celebrate our first 50 years, the results were overwhelmingly in favor of performing community service," stated Chairman Mike Blach. "This response was very gratifying and would have made my dad, our founder, very happy. He loved working with nonprofits and organizations that made a difference in people's lives and in our community. I am proud that we are continuing to build upon his legacy."
San Jose/Monterey, Calif., Jan. 13, 2020 – Blach Construction (Blach), a full-service and award-winning commercial builder, is ringing in 2020 with plans to commemorate 50 years in business. Founded in 1970 by Michael S. Blach, the company will be hosting a series of unique celebrations and has kicked off a year-long giving program at Sacred Heart Community Service (SHCS) in San Jose.
"When we polled our colleagues on how they would like to celebrate our first 50 years, the results were overwhelmingly in favor of performing community service," stated Chairman Mike Blach. "This response was very gratifying and would have made my dad, our founder, very happy. He loved working with nonprofits and organizations that made a difference in people's lives and in our community. I am proud that we are continuing to build upon his legacy."
SHCS has provided housing and employment assistance, family mentoring and adult and youth education programs to the greater San Jose community since 1964. Blach's long-standing rela-tionship with the organization spans more than 20 years and various capacities, ranging from building its current facility to donating more than 1,500 bikes and backpacks for its toy and back-to-school drives over the last several years. Furthermore, Mike Blach has served on the SHCS board, including as a past president.
Throughout its entire Golden Anniversary year, Blach will make pro bono building improvements to the nonprofit's facility, and employees will volunteer at least 500 hours to support various events and drives. Moreover, the firm kicked off an internal fundraising effort and will match all employee donations, which are anticipated to generate more than $50,000 for SHCS.
In addition to Blach's philanthropic work with SHCS, the builder will also commemorate its 50th Anniversary with a series of special celebrations in gratitude to its clients, partners, subcontrac-tors and colleagues. A special history exhibit is also being installed at its San Jose headquarters to showcase the firm's first 50 years of achievements, newsworthy events and the people who made it happen.
"We are always looking ahead, planning for the future, and what we see is extremely promising. We recently broke ground on two of the largest projects in our history, including Gateway at Millbrae Station – one of the largest transportation-oriented developments in the Bay Area. And, we're seeing continued growth in both new and existing markets," stated Dan Rogers, president of Blach Construction. "It's clear that Blach's first 50 years have laid a strong foundation for our next 50 years. Ultimately, we are very honored to be celebrating this significant milestone and thank our supportive clients, dedicated partners and talented employees for getting us here."