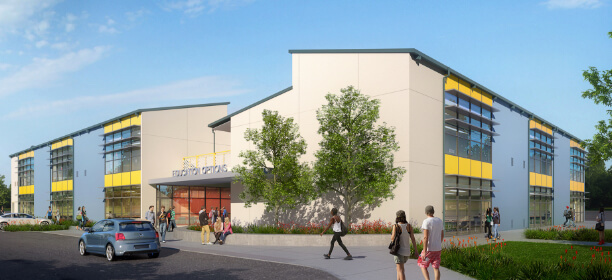 "Folia was the perfect solution to our need for additional high-performance learning environments for our staff and students."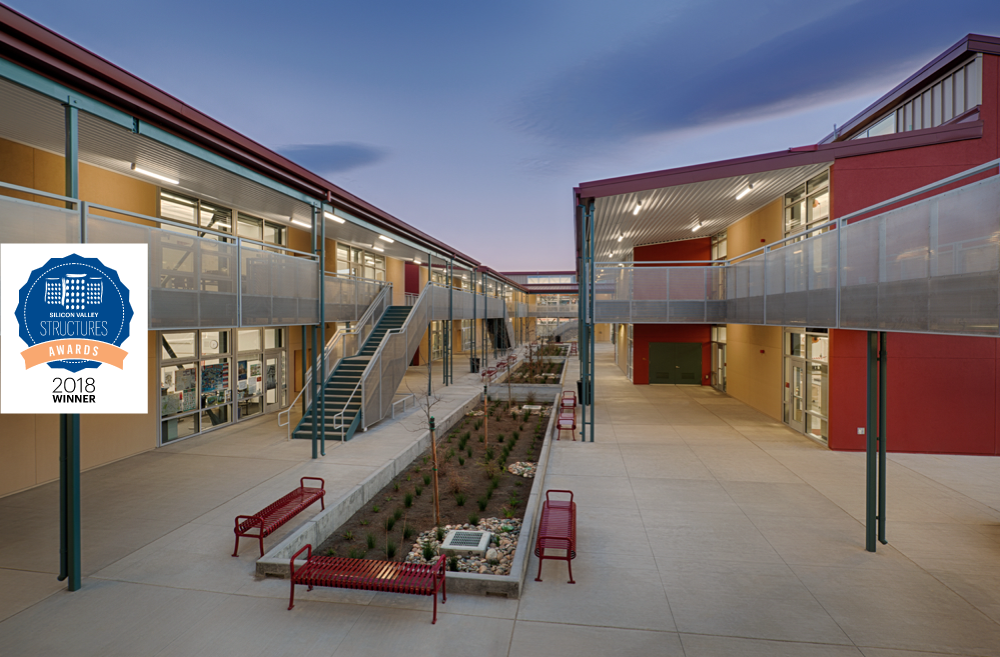 "Folia was the perfect solution to our need for additional high-performance learning environments for our staff and students."
Innovative Building Solution Folia Design-Build Team Blach Construction and Quattrocchi Kwok Architects Invented Folia to Efficiently Deliver Quality, Cost-Effective and Customizable Structures.
Construction has commenced on Fremont Union High School District's (FUHSD) Educational Options project, which will provide two new multi-use buildings for the District's alternative education programs. Earlier this year, FUHSD also celebrated the completion of three new classroom buildings, one of which supports the STEM (science, technology, engineering and math) curriculum at Cupertino High School (CHS).
Both pursued with Measure K school bond funds, FUHSD chose an innovative building solution, called Folia, which was developed by local Bay Area firms Blach Construction Company (Blach), Quattrocchi Kwok Architects (QKA) and Gregory P. Luth & Associates (GPLA) Structural Engineers as the ideal choice for both of these complex projects. Folia is a two-story building that, with its unique combination of prefabricated components, offers significant cost and schedule savings, as well as design flexibility.
"Folia was the perfect solution to our need for additional high-performance learning environments for our staff and students," said Polly Bove, superintendent of the Fremont Union High School District. "Folia's design rivals a customized classroom building, as we were able to infuse all that we needed for our students and teachers into the design and expedite the buildings' development using this prefabricated option. We were thrilled to have both Blach and QKA on our campuses, continuing a decade-long collaboration on projects within our district."
Ideally suited for FUHSD's two new Educational Options buildings, Folia's non-bearing interior walls allow for an easily customized floorplan that will include classrooms and lab spaces, administrative offices, conference rooms and a cafe. At 32,000 square-feet and with total project costs valued at $26.7 million, the project will support the District's innovative alternative education programs. As its name aptly implies, this multi-faceted program serves FUHSD students who require non-traditional learning opportunities and environments, enabling them to complete credits towards a high school diploma or prepare for their GED or the workforce. The two buildings are linked together by two bridges, forming a sheltered courtyard and providing outdoor collaboration space for students and staff. The project is expected to complete in Summer 2019.
CHS's recently completed classroom project began in pursuit of custom-designed structures; however, Folia entered the equation as an ideal solution that would meet the school's needs. Folia offered a savings of more than $3 million to the bond program, and it allowed for an accelerated timeline for completion one-year ahead of schedule. With total construction costs valued at $26.7 million and totaling 40,000 square-feet, two Folia buildings contain 22 classrooms, a Career Technical Education Lab and collaborative learning spaces. Customized design features include breakout spaces, informal gathering and study areas and ample daylighting. The third building, which leveraged Folia principles and prefabrication, boasts six new science labs and two shared preparation spaces. The tri-structure project also includes outdoor learning environments, with particular attention to sustainability features, such as water-efficient landscaping and student gardens, storm water biofiltration, recycled building materials, high-efficiency lighting and mechanical systems, and a solar photovoltaic panel system. Already being recognized as a forward-thinking AEC solution, this project has been honored with both the Silicon Valley Business Journal's Structures Innovation Award and the American Society of Professional Estimators Most Innovative Project Award.
"Cupertino High School is a 21st Century Learning institution that puts its students' capabilities and teaching advancements at the forefront in its campus development decisions," said Aaron Jobson, principal at Quattrocchi Kwok Architects. "We designed Folia with customizable features for every unique school – and Cupertino is definitely no exception with its technology industry influence surrounding the campus. Further, FUHSD's Educational Options project showcases Folia's inherent flexibility and ability to transform beyond the traditional classroom building."
Recognized by Building Design + Construction magazine as a "Great Solution" in 2016, Folia is built with the same type of materials and structural systems as conventional classroom buildings, but delivered in less time at a lower cost. Folia offers a flexible alternative to traditionally designed buildings with the same level of quality and longevity through its highly optimized design that is set up for prefabrication and fast installation. Folia is DSA (California
Division of State Architect) pre-check approved, and because much of the building is prefabricated, it can be delivered in less than one year. It was designed to meet the building standards of the Collaborative for High Performance Schools (CHPS) with an emphasis on natural daylighting, indoor air quality, and acoustic performance. Additionally, Folia is solar-ready and can achieve Zero Net Energy (ZNE).
"Folia offers so many benefits without compromising quality. In fact, Folia is ideal for educational environments because of its flexible design, expedited pre-approved DSA process, quick installation and greater cost predictability. Furthermore, off-site prefabrication not only ensures greater safety, but minimizes noise and disruption on-site as well, which is highly valued on active school campuses," said Blach Vice President Kim Scott. "With Folia, the District has opted to provide both Cupertino High School and their celebrated Educational Options program with state-of-the-art facilities indicative of the high performance for which they are known. We are proud to partner with FUHSD and our extended Folia project team once again to create these inspiring spaces."