San Jose, Calif. - (February 4, 2016) Evergreen Valley College's South Campus Complex project site was recently certified as a Voluntary Protection Program Site by the Occupational Safety and Health Administration (OSHA) and the U.S. Department of Labor.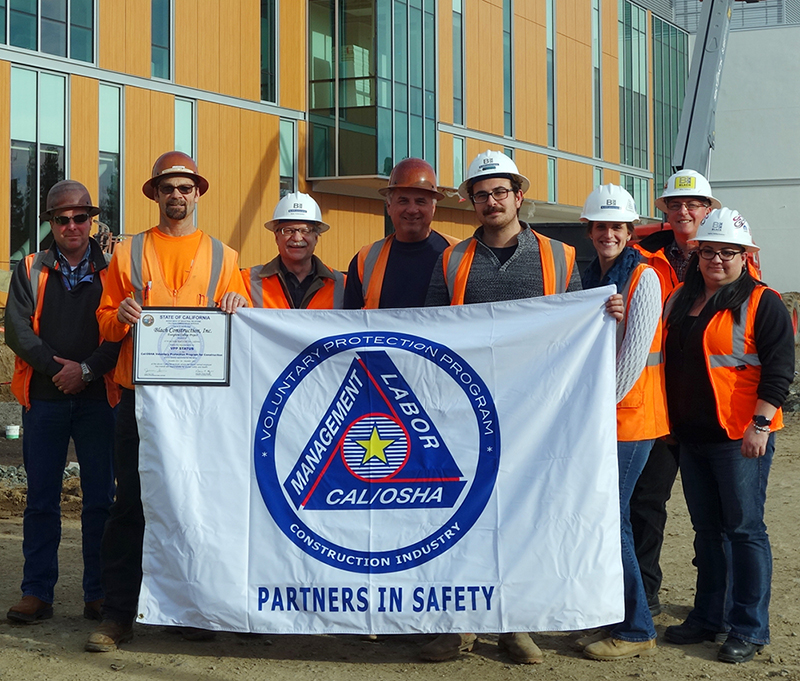 The Voluntary Protection Program (VPP) recognizes companies, employees and project sites that have effectively implemented safety and health management systems while maintaining injury and illness rates below national Bureau of Labor Statistics averages.
Acceptance into this program is very low and companies that achieve this "status" are considered leaders in their respective industries. To apply, companies must submit an application to OSHA, undergo a rigorous on-site evaluation by a team of safety professionals and garner Union support.
"Safety is a key component of our culture," said Ken Schroeder, project executive at Blach Construction. "The VPP site certification demonstrates the entire project team's dedication to safety and supports Blach's commitment to safety excellence."
The Evergreen Valley College's South Campus Development project, built by Blach Construction, is a LEED-designed fitness and classroom building complex located at 4750 San Felipe Road, San Jose, Calif. The 58,000 sq.ft. project, now more than 85% complete, includes a state-of-the-art fitness center and a two-story academic building. Designed by HMC Architects, this complex is helping to meet the needs of the College's growing student population, which exceeds 30,000 students.
This is the second Blach project site to receive VPP certification. Last year, the company was recognized for the new Student Health Center project site at San Jose State University.
Blach Construction Company builds structures of enduring quality and value throughout Northern California and the Central Coast. The company's experience encompasses a broad cross-section of commercial, industrial and institutional building types, including education, healthcare, technology, professional services and civic/community facilities. Blach is a recognized leader in sustainable design and construction and is based in Silicon Valley with a full-service regional office in Monterey.