Advanced Education Facility Designed by Quattrocchi Kwok Architects and Built by Blach Construction Connects Silicon Valley Businesses and Organizations to Future-Ready Learners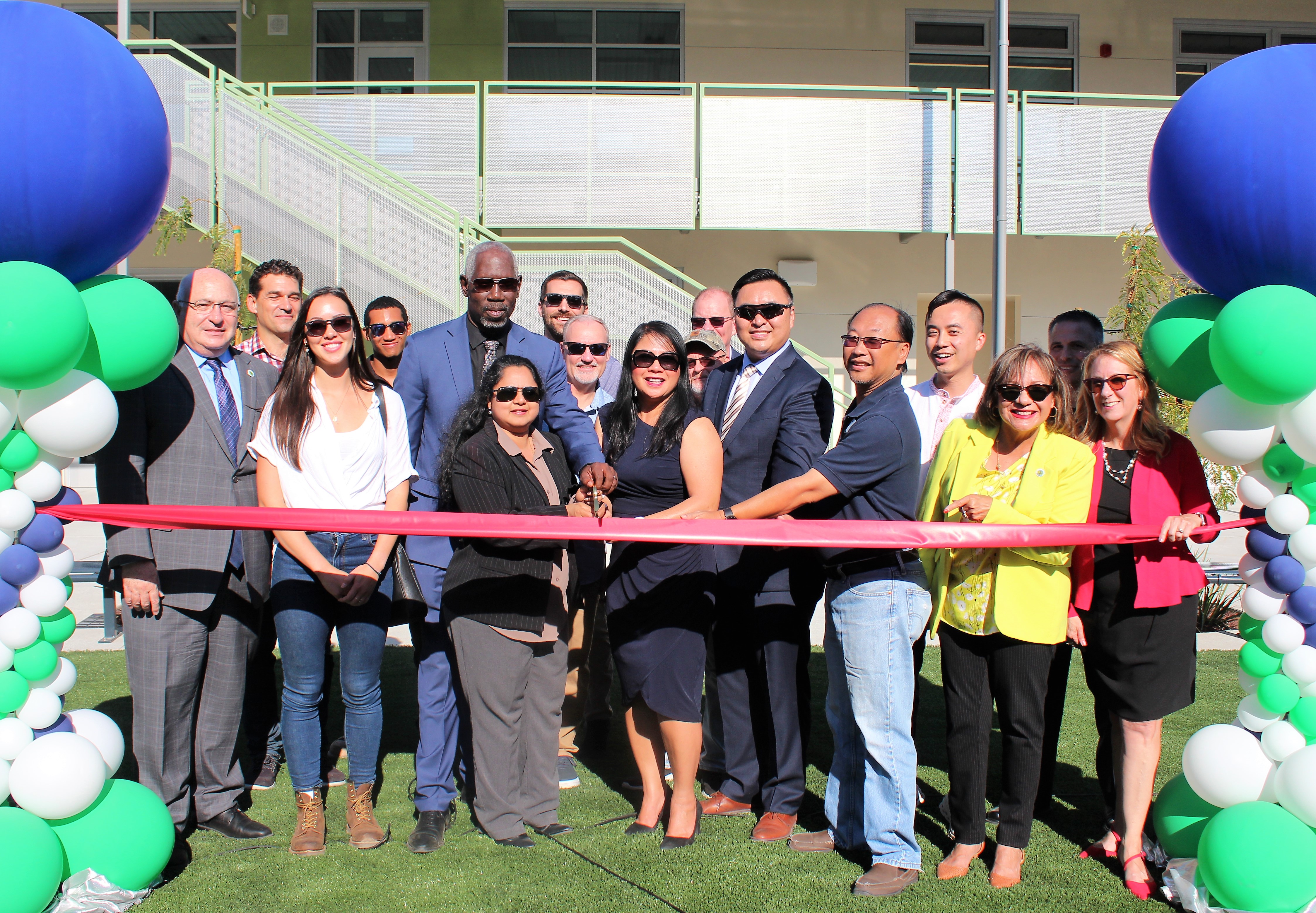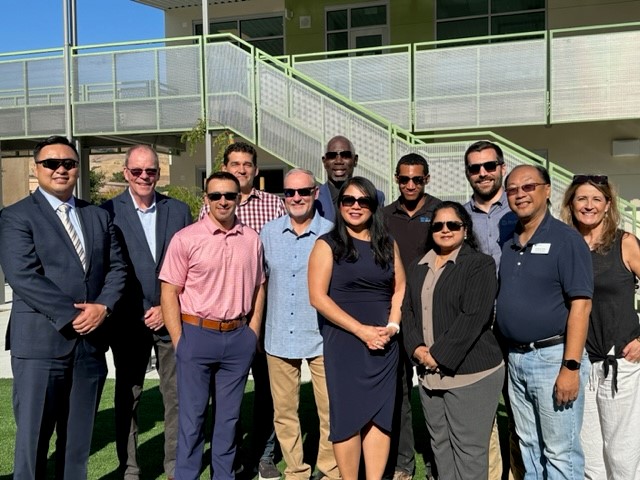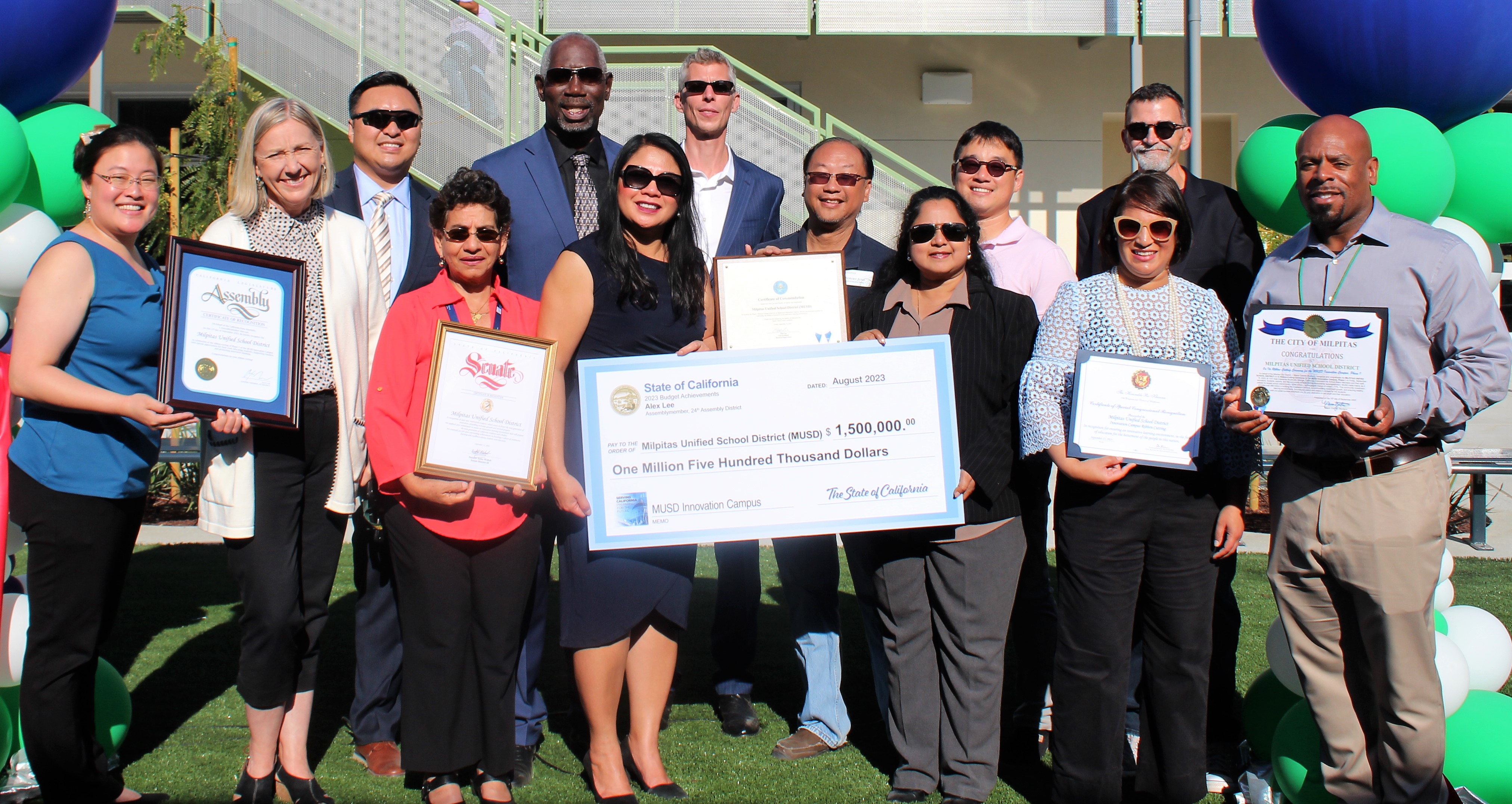 Milpitas, Calif., Sept. 21, 2023 – Milpitas Unified School District (MUSD) recently celebrated the opening of the first of three phases of its Innovation Campus – an unparalleled high school, adult education, early childhood education research and workforce development center.
Located on the site of the MUSD District Office, Adult Education and Calaveras Hills High School (Cal Hills), the Innovation Campus replaces the former Samuel Ayer High School. When complete, it is intended to become a hub for learners of all ages to connect with local businesses and partner organizations in classrooms and labs tailored to provide a real-world education. The opening event was attended by District staff and Board of Education, the Milpitas mayor and city council members, Ayer High alumni, community members and the project team, including builder Blach Construction (Blach) designer Quattrocchi Kwok Architects (QKA) and construction bond manager TBK. Also in attendance was Alex Lee, 24th District Assemblymember, who presented MUSD with a check for $1.5 million that he secured for future phases of this project from the California State Budget, as well as representatives from the offices of Congressman Ro Khanna, Senator Aisha Wahab and Supervisor Otto Lee.
"The opening of our new Innovation Campus is an exciting step for our schools, our community and public education generally," said MUSD Superintendent Cheryl Jordan. "MUSD is proud to be driving this new era of progressive, future-forward learning that is taking shape in Milpitas. We are grateful to our community and key partners for their generous support of this state-of-the-art campus, and to QKA and Blach for being trusted project partners bringing our vision to life and bringing innovative solutions to the table throughout the multi-phase process."
The project's just-completed first phase consists of four new two-story buildings, pre-engineered and prefabricated by Blach and QKA with their patented Folia classroom building solution. Constructed in just over 12 months, the Folia solution enabled the team to achieve completion approximately two years less than had they pursued a traditional, new design and construction path. Additionally, meticulous planning and seamless client coordination ensured minimal disruption to teachers, students and District staff occupying the existing buildings on the site. Open for work and instruction in time for the 2023-24 academic year, the phase one Folia buildings are home to MUSD District Office and Adult Education, and temporarily, Cal Hills.
Phase two of the MUSD Innovation Campus includes two additional Folia buildings. Construction began in summer 2023 and is fully underway. Slated for completion in summer 2024, phase two will serve as the permanent home to Cal Hills, while the phase one facilities will then house a newly formed Milpitas High School (MHS) extension. Phase three will round out the MUSD Innovation Campus with its focus on Early Childhood Education (ECE) and Workforce Development.
Overall, the more than $90 million, nearly 100,000-sq. ft. MUSD Innovation Campus project will comprise a total of six new L-shaped Folia buildings as well as one modernized building that will provide Career Technical Education (CTE) lab space for robotics and advanced manufacturing. The buildings are positioned to create a series of courtyards that link the facilities and provide opportunities for outdoor gathering and collaboration. Folia also supports the project's sustainability goals, which include Collaborative for High Performance Schools (CHPS) certification and renewable power supplied by MUSD's existing photovoltaic system. Each building includes sustainable materials, energy efficient lighting, all-electric mechanical systems, stormwater catchment and water-efficient landscaping
"The MUSD Innovation Campus is more than a place for education; it will support learning and workforce development for the whole community," said QKA Principal, CEO and President Aaron Jobson. "Drawing on our depth of experience designing next-generation learning facilities and our longtime close collaboration and partnership with Blach, we are grateful to be able to create a dynamic and flexible learning environment that can evolve with ongoing curriculum advances."
"We are thrilled to be a part of this unique learning institution overall and have completed the first phase of its campus. Not only is this project closely aligned with our dedicated approach to quality, partnership and innovation, it will significantly impact the future of Silicon Valley, a region we have been instrumental in shaping for over half a century," said Dave Finn, Blach's vice president of education. "Leveraging our customizable Folia building solution is allowing our team to meet the project's sustainability goals and ambitious timeline, while mitigating disruption – all without sacrifice to its large-scale scope. We join MUSD and the broader Milpitas community in celebrating this wonderful milestone."
Funding for the MUSD Innovation Campus is made possible by 2018's Bond Measure AA and California state-matching grants. MUSD continues seeking the support of additional financial partners, like KLA Corporation, to help sponsor this first-of-its-kind bridge between local businesses, technical training and future-ready learners. For more information, please visit www.musd.org/musd-innovation-campus-campaign.html.
As summed up by MUSD Board of Education President Chris Norwood at the recent ribbon-cutting ceremony for phase one, "The Innovation Campus represents our investment in the secondary, post-secondary and adult education of Milpitas residents. I'd like to personally recognize Superintendent Cheryl Jordan and the Milpitas Unified School District Governing Board of Trustees for such visionary leadership. This innovative campus, reflective of true partnership with our school district administration, teachers, staff, local businesses, elected officials and community leaders, will contribute to both career pathway readiness and the City of Milpitas workforce economy for years to come."
About MUSD Innovation Campus
Through partnerships with community colleges and universities, as well as local businesses, MUSD Innovation Campus is intended to provide training and education that support growing and emerging career fields and practical career simulation. Once complete, the campus will comprise myriad classrooms, STEAM (science, technology, engineering, arts and mathematics) labs, a Learning Hub and support spaces that accommodate a wide variety of programming for Milpitas students of all ages. Specific curriculum will include adult education, business entrepreneurship, robotics, biology, virtual reality, AV production, coding, artificial intelligence, machine learning, computer science and virtual design and construction, as well as simulation for legal, financial, manufacturing and health career training.
Specifically, it will provide dedicated space for the MUSD District Office, Adult School and Cal Hills High alternative/continuation school. Also, facilities have been designated as the MHS Extension, to both support the growth of its CTE and ECE programs and relieve overcrowding on the high school's main campus. Furthermore, the MUSD Innovation Campus will flexibly accommodate learning programs provided by partner educational institutions and businesses dedicated to continuous training and development.