Construction Considerations
By Blach Construction |
September 21, 2022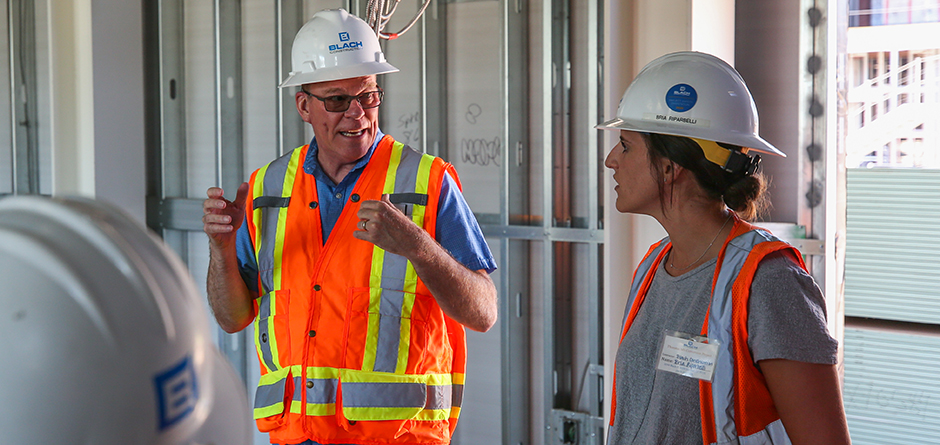 Partner, plan, procure and prepare to pivot, otherwise known as the "4 Ps" will help alleviate some project-related stress.
At Blach, we pride ourselves on being service-minded partners to our valued clients. Our primary objective is to deliver quality structures that serve our communities, clients and their stakeholders well. For this reason, we happily do our best to educate our current and potential clients, as well as any entity looking to modernize, renovate or build anew.
Dave Finn, our vice president of education, recently contributed an article to School Construction News, offering seasoned advice on preparing for upcoming education construction projects. While written for educators and their facilities teams, Dave's perspective has merit for anyone who is about to embark on a construction project, regardless of the building type.
Here is what Dave has to say about "The 4 Ps to Education Construction Project Success."  Don't hesitate to reach out if you have any questions or would like to explore this topic further.
The 4 Ps to Education Construction Project Success
(as printed in a recent issue of School Construction News)
 Two-plus years later and life as we know it is still quite different. The pandemic has affected everyone and everything. No industry has gone unscathed. And never has this been more evident than now since we've all been attempting to achieve some semblance of normal.
Many districts in California returned to school in full force last fall. With that transition came the realization that facilities modernization projects might be desired, if not required. These projects run the gamut, ranging from HVAC and air quality improvements (for obvious reasons) to facilities upgrades that support evolving programming, such as the inclusion of universal transitional kindergarten (TK) throughout all California districts by August 2024.
 As districts and stakeholders tackle these projects, it is important to understand the current construction landscape. The construction industry, highly attuned to navigating varied and often serious challenges, continues to contend with unprecedented situations.
 Field labor shortages, which began pre-pandemic, have continued to rise. Causes vary, but the number of residents opting to leave California as a result of the pandemic and myriad other reasons has exacerbated the issue.
 Cost increases, always anticipated on some scale, have become more dramatic than ever. While this is evident everywhere, the price of construction materials – wood, steel, glazing – are all on the rise.
 Supply chain constraints continue to impact multiple aspects of a project. Most notably are the severe chip shortages that affect necessary electronic equipment supply. Again, this can be attributed to workforce shortages and shutdowns that resulted from the pandemic.
 Transportation delays seem to be quite commonplace and continue to adversely affect the hauling of construction materials. Again, there are several factors involved, including the current state of international affairs, the price of fuel and the ongoing threat of weather or other disasters. (Think crippling snowstorms and raging California fires.)
 So, with this as a backdrop, how can a district best protect current and ongoing projects? Simply put, partner, plan, procure and prepare to pivot, otherwise known as the "4 Ps." Follow these, and some project-related stress may be alleviated.
 Partner. Aligning yourselves with the right partners is critical to the success of any project, especially now. Project team partners should understand objectives and continually strive to allay fears and support needs. Districts must be upfront about expectations and associated rationale, while remaining as open-minded as possible. Most importantly, deadlines must be realistic and negotiable. Schedules, by today's standards, look a bit different (and likely more extended) than they were pre-pandemic.
 Plan. Start early. Gone is the day – at least for now – that a project can take shape rapidly. Know that anywhere from six months to a year of pre-planning/preconstruction might be required. If you've surrounded yourself with collaborative partners, be sure to leverage their expertise and follow their counsel. Don't be afraid of what you don't know. Your partners want to enjoy success with you. Additionally, you'll want to consider alternative delivery methods.

 Design-Build or Lease-Leaseback are two such options, each offering the benefit of early team alignment. Cross-team integration and collaboration throughout the process – from the design phase through completion of construction – can certainly elicit optimal results for each district's unique needs, particularly in contending with stringent (and ofttimes laborious) Division of State Architect (DSA) requirements and permitting.

 Procure. With today's supply chain constraints compounded by potential escalation, it is critical to have a comprehensive understanding of project-dependent long-lead items. Ask your partners to assess and share plans for mechanical, electrical and plumbing (MEP) equipment, as well as systems relative to fire alarm, security and more. Generally, anything that might include a microchip should be secured as quickly and as early as possible. (This alone is a clear benefit of selecting an alternative delivery method.) Then, be prepared to store these items if necessary. Having them on-hand when they're required will prevent unforeseen project delays. 
 Prepare to pivot. If the pandemic has taught us anything, it is not to get too attached to our plans. Whenever possible, have (or be prepared for) a Plan B. If one doesn't exist, communicate, collaborate and be flexible. Construction partners are accustomed to challenges and often devise innovative solutions that, while not necessarily planned, will serve the purpose, the project and your objectives well.
 In sum, it is no secret that times have changed. Education construction is at a crossroads. Understanding the landscape, selecting the right partners, remaining realistic and open-minded – essentially following the "4 Ps" laid out above – will assist in ensuring project success, not only in completion, but in overall experience, as well.
Dave Finn is vice president of education at Blach Construction. Founded in 1970 and with offices in San Jose, Monterey and Southern California, Blach is a leader in education construction throughout California. Dave can be reached at dave.finn@blach.com or 408.244.7100.