Community-defining project in the heart of Millbrae on track for 2022 completion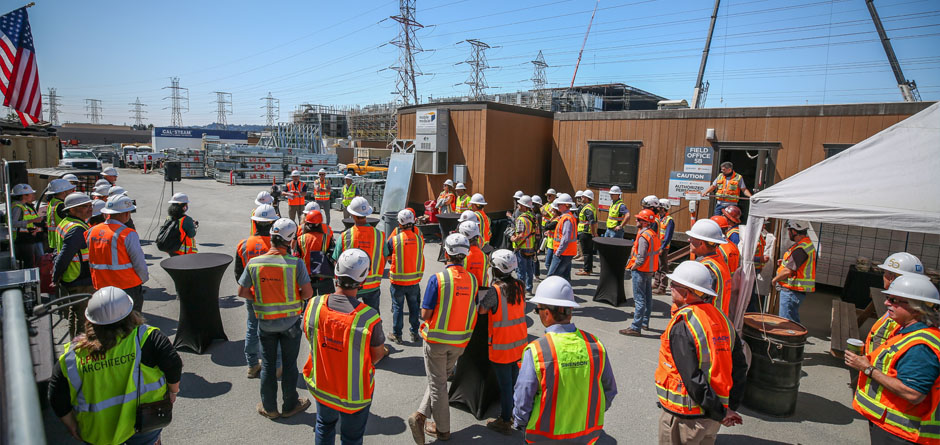 "Gateway at Millbrae Station is a high-impact project that tightly aligns with our purpose as a service-minded builder focusing on enhancing communities,"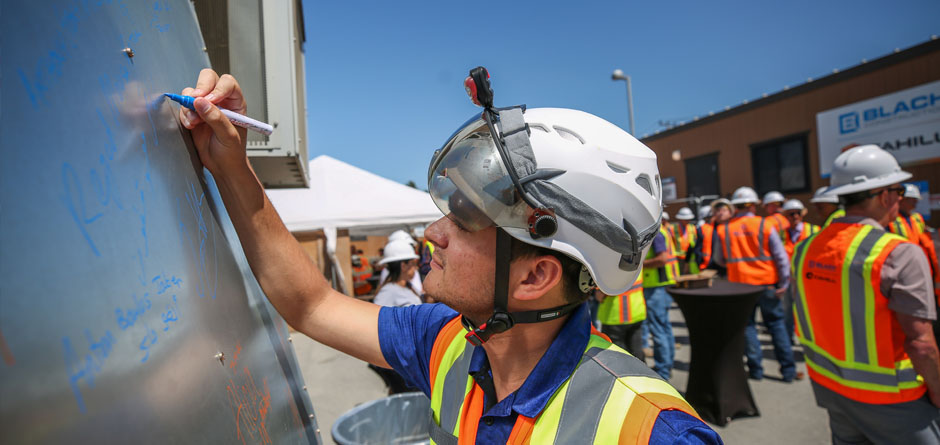 "...we are proud to be pioneering the use of a pre-engineered metal framing platform, which is a first on a development of this scale. As we celebrate these significant construction milestones, we look forward to delivering a community-defining development that addresses a variety of needs, especially housing, in this key Bay Area region."
San Jose Calif., July 28, 2021 – Blach Construction (Blach), a full-service commercial contractor serving the Greater Bay Area and Monterey since 1970, and Cahill Contractors LLC. celebrated significant topping out and groundbreaking milestones at Gateway at Millbrae Station on Wednesday, July 14th. Among these were the "topping out," or structural completion, of both the Residential Housing and Hotel components of the project and the groundbreaking of the Veteran's Housing structure. Attendees received project updates from builder Blach/Cahill, developer Republic Urban Properties, as well as steel framing innovator, Prescient.
"Gateway at Millbrae Station is a high-impact project that tightly aligns with our purpose as a service-minded builder focusing on enhancing communities," said Dan Rogers, president of Blach Construction. "We are grateful for the trusted partnerships that enable us to leverage our expertise in innovative building solutions, while maintaining our high standards of quality, efficiency and collaboration. Specifically, we are proud to be pioneering the use of a pre-engineered metal framing platform, which is a first on a development of this scale. As we celebrate these significant construction milestones, we look forward to delivering a community-defining development that addresses a variety of needs, especially housing, in this key Bay Area region."
Located along the Highway 101 corridor, in very close proximity to San Francisco International Airport, Gateway at Millbrae Station is one of the largest transit-oriented development projects in California to date. Not only will this highly anticipated mixed-use complex assist in addressing critical Bay Area housing needs, it will enable access to sustainable transportation through BART, CalTrain, SamTrans and other local transit agencies while providing spaces to work, stay, shop and eat. The project is poised to create 1,100 new jobs and will include 300 market-rate apartments,100 affordable apartments – 80 of which are Veteran-preferred, a 164-room Marriott Residence Inn, 150,000 sq.ft. of Class-A office space, 44,000 sq.ft. of ground-floor retail and restaurants and establish new public open spaces, plazas, pedestrian/bike paths and dog parks.
"We are thankful to have been able join together with our incredible partners to celebrate the progress being made across multiple facets of the Gateway at Millbrae Station," said Reyad Katwan, COO of Republic Urban Properties. "A project of this complexity and caliber is difficult to keep on schedule and we're grateful for Blach/Cahill. From the start, they met myriad challenges with innovative solutions, purposefully driving the implementation of a new prefabricated metal framing platform, Prescient. In addition to its substantial safety and accuracy implications, the revolutionary Prescient system has delivered impressive cost and schedule efficiencies to our project."
A key transit center connecting all corners of the greater Bay Area, the project was deemed essential and construction continued throughout Shelter in Place. At approximately 943,000 sq. ft., it remains a safe and efficient site throughout the construction process thanks to the calculable nature of the buildings' design-build delivery method. Leveraging Prescient, a pre-designed, pre-engineered framing system, the project team was able to address current impacts including price escalation, materials shortages, project safety and sustainability on several portions of the development in which the system was used. This approach, led by Blach/Cahill, was the first to be used on a project of this size and has been key to meeting target deadlines.
 "It is incredibly gratifying to be working on such a significant project with such an innovative, forward-thinking team," said Magued Eldaief, Prescient CEO. "Our objective with Prescient is to deliver measurable results through digitization and lean design, ultimately reducing project schedules, demand for labor and overall project costs. It is clear we've hit the mark, as evidenced by the continued success at Gateway at Millbrae Station and we look forward to working more closely with Blach/Cahill to enhance more projects with our efficient steel framing platform."
Gateway at Millbrae Station, which first broke ground in 2019, remains on schedule, with final completion expected in 2022.
About Blach/Cahill Joint Venture
In 2014, Blach Construction and Cahill Contractors saw an opportunity to capitalize on more than 150 years of varied and independently successful experience. Forging a partnership to offer a highly effective collaborative construction solution, Blach/Cahill was formed. Together, the joint venture provides expertise in all facets of residential and commercial construction, utilizing combined extensive resources and relationships to efficiently deliver projects that are on time, within budget and exceed expectations.