SPCA, Building Team and Pets Celebrated with a Traditional "Beam Signing" Event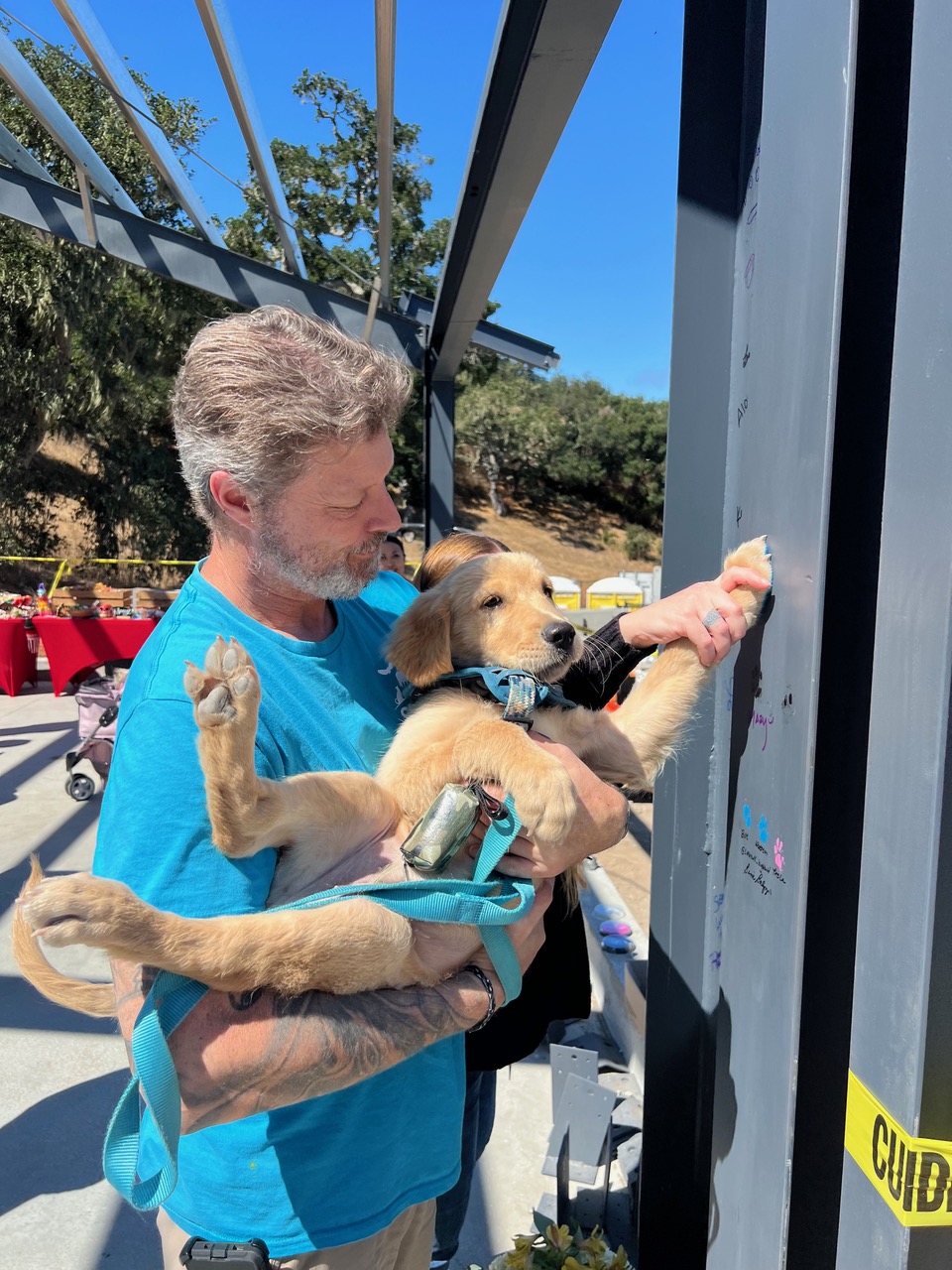 Four-month-old rescue, Austan, leaves his pawprint on the TLC Building.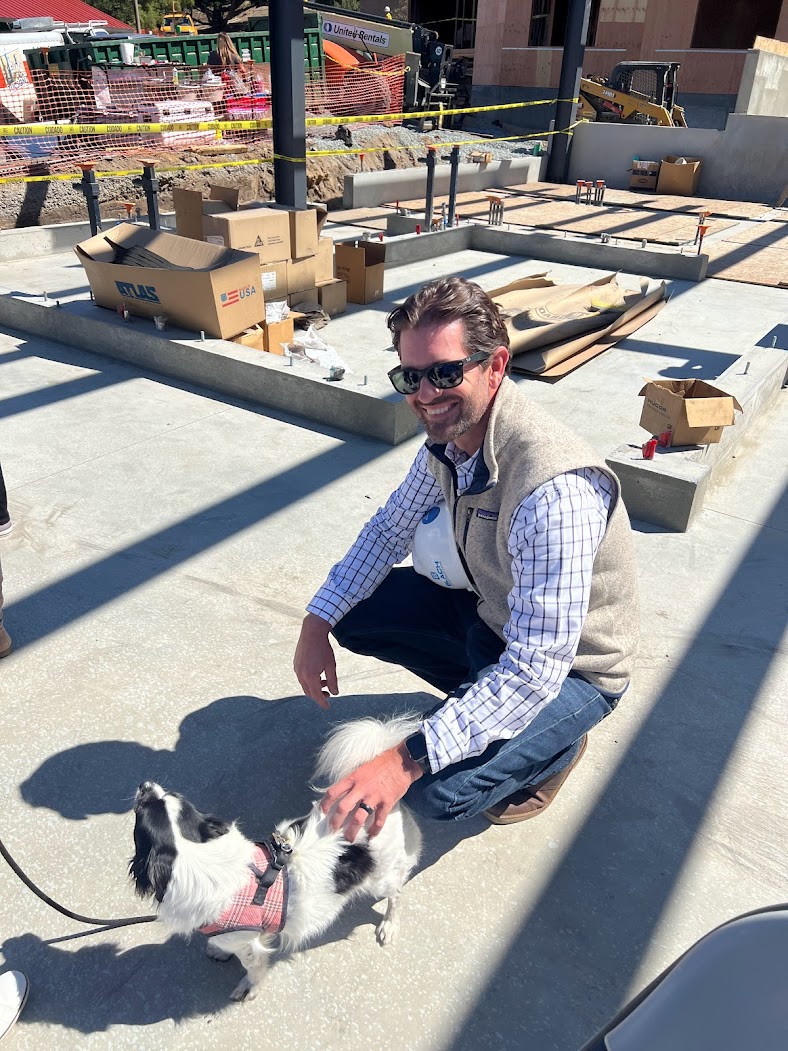 "It is extremely gratifying to work with an organization so dedicated to the happiness and well-being of animals and the people who advocate and care for them."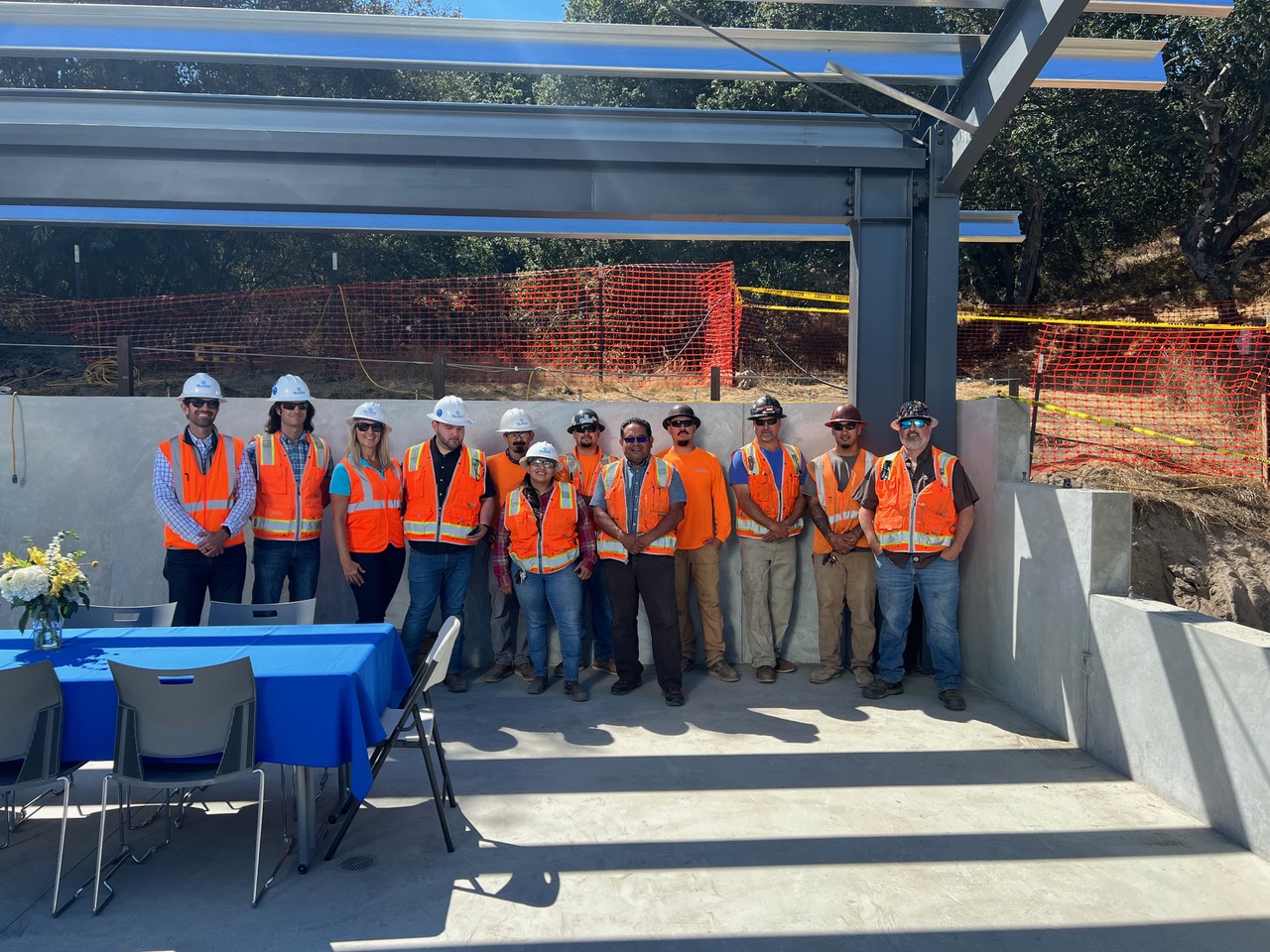 Salinas, Calif., Sept. 25, 2023 – The staff of SPCA Monterey County and Blach Construction – accompanied by four-legged guests – gathered on Thursday, September 14, to celebrate the topping out of two new buildings that will significantly expand the SPCA's campus and strengthen its ability to serve the people and animals of Monterey County.
Ground broke in March 2023, and the project, which includes the remodeling of an existing wood-frame structure in addition to the new buildings, is expected to complete in March 2024. While a topping out – a ceremonial event whereby the final steel beam is hoisted and placed a structure – normally includes the project owner and construction crew's signing of the beam, many SPCA employees' dogs also had their paw prints immortalized.
"It is extremely gratifying to work with an organization so dedicated to the happiness and well-being of animals and the people who advocate and care for them," said Blach Vice President Kevin McIntosh. "Knowing that the structures we're building and remodeling are aimed at providing a safe haven for the wide variety of animals taken in by the SPCA is incredibly reassuring. We are honored to be delivering such a rewarding project to such a deserving partner."
The $13 million three-building project is comprised of approximately 10,000 square feet of new space and 2,500 square feet of remodeled space. The new Sally Lucas Treatment, Learning and Compassion (TLC) Building will enable the SPCA's behavior team to work with dogs presenting challenges upon intake. It will include heated kennels for 14 dogs, as well as office space. The new Training Center will house a dog training pavilion, consultation rooms and offices for the Humane Investigation Team. The remodeled Claire R. Jacobson Learning Center – with a large outdoor deck that affords a beautiful view of the valley – will provide classroom space for kids' camps and other education programs.
"I'm delighted with the work Blach is doing to expand our campus and meet vital community needs," said Scott Delucchi, president & CEO of the SPCA Monterey County. "The project has progressed very well with little disruption to our operation, while maintaining a peaceful environment for our animals. Selecting Blach for this project was among our easiest decisions given that they successfully led our major expansion efforts a decade ago. They were wonderful to work with then and are again, now."
This is Blach's second major project for SPCA Monterey County. Completed in 2013, Blach performed $13.4 million in preconstruction and construction services for a multi-phase transformation of its campus, which had been built in 1968. That project included a new adoption pavilion, equine facility, barn, caretaker's cottage, a variety of site infrastructure improvements, and the modernization of the administration and shelter buildings. It also included a new Wildlife Rescue and Rehabilitation Center, the only one in Monterey County that offers veterinary treatment for a range of shoreline birds and other species. The veterinary clinic was also completely renovated, and a new surgery center was added.
About SPCA Monterey County
SPCA Monterey County is a nonprofit, independent, donor-supported humane society that has been serving the animals and people of Monterey County since 1905. The SPCA is not a chapter of any other agency and does not have a parent organization. It shelters homeless, neglected and abused pets and livestock, and it provides humane education and countless other services to the community. It is the local agency that investigates animal cruelty, rescues and rehabilitates injured wildlife, and helps domestic animals in need. To learn more, visit www.SPCAmc.org and follow @SPCAmc on the following social media channels: Facebook, Instagram, X (formerly Twitter), TikTok, and Threads.