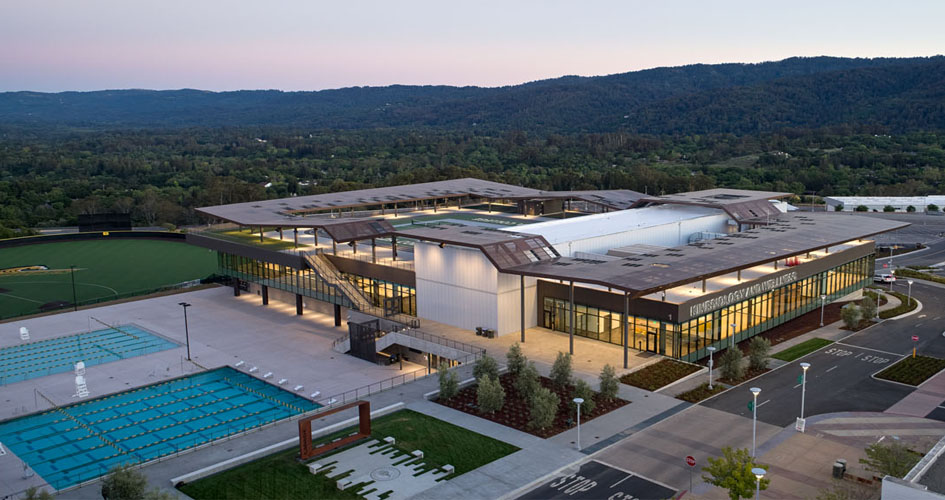 115,000-Square-Foot Landmark Enhances Campus and Community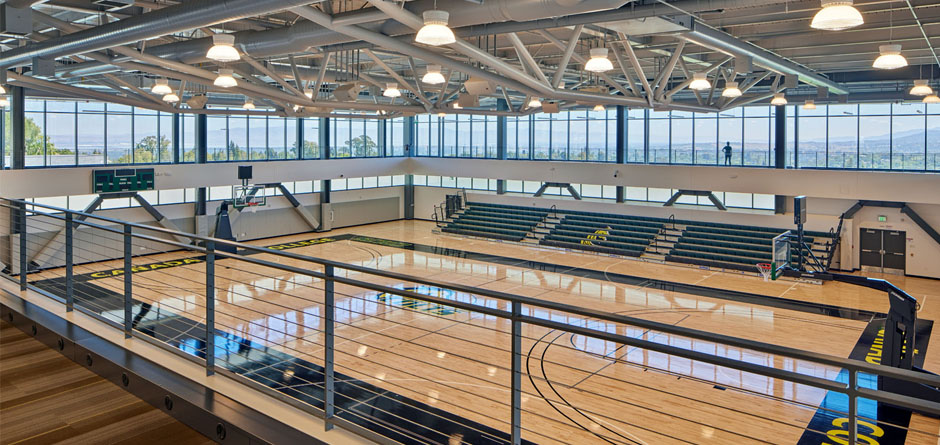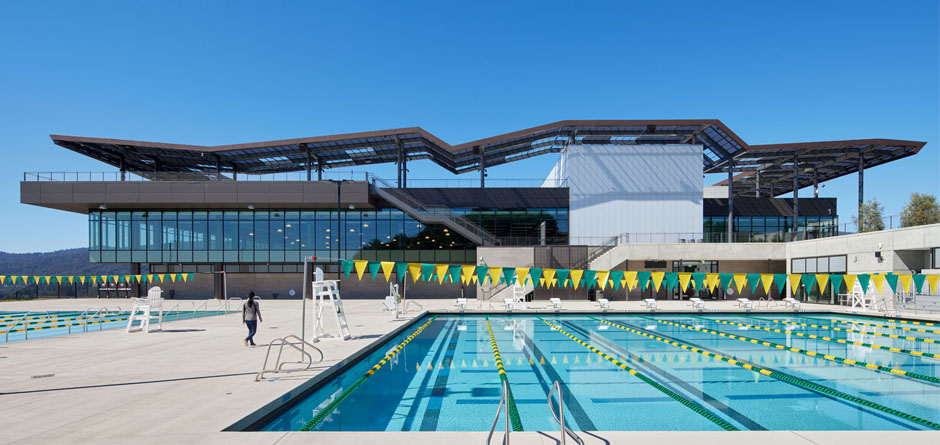 San Jose, Calif., June 8, 2021 – Highly collaborative, progressive design-build experts Blach Construction (Blach) and ELS Architecture and Urban Design (ELS) recently completed the new state-of-the-art Kinesiology and Wellness building on San Mateo County Community College District's (SMCCCD) Cañada College campus in Redwood City. The 115,000 square-foot teaching and learning building is prominently positioned above the Bay Area Peninsula's Interstate 280 and was delivered through a progressive design-build contract. Rounding out the picturesque campus, the leading-edge structure enables the college to enhance academic offerings and expand its athletics department, while serving as an important community resource as well.
A focal point on Cañada's campus, the new Kinesiology and Wellness building replaces the school's outdated concrete gymnasium that was erected in 1967, never fully completed and lacked critical features, most notably the initially planned pool and an HVAC system. It is set amidst rolling hills in a Wildland Urban Interface, two distinct building challenges that were alleviated by the progressive design-build project team's collaborative relationship and ability to deliver innovative solutions. The result is a new facility targeting LEED Gold certification with many unique and distinguished features, including more than 60 different exterior skin conditions, an array of workout, gymnasium and support spaces, two competition-sized pools, an activated roof with track, pickle ball courts and yoga studio, a Hall of Fame wall that pays homage to Cañada's elite and inspiring student athletes, and an expanded parking lot with 400 additional spaces.
"I am truly inspired by our team and everyone who was involved in seeing this project through to completion," said Dan Rogers, president of Blach Construction. "Building a project of this scope, scale and importance is a demanding undertaking in and of itself. Add the global pandemic during the height of construction, and not only did our project team continue to be increasingly innovative, their foresight and technical expertise allowed for a smooth process, despite unprecedented challenges. In many ways, the Cañada College Kinesiology and Wellness building is a milestone for the college, surrounding community and our company, as well."
Aesthetically, the Kinesiology and Wellness building serves as a landmark for both Cañada and the San Francisco Bay Area mid-Peninsula region. Positioned above Interstate 280, the 55-foot-tall building can be seen easily from the busy freeway below. Its second floor, which is made entirely of glass, reflects the sun and surrounding terrain, while its translucent spine evokes a lit lantern at night. The roofline, defined by an innovative canopy, mimics the rolling hills. These crown the activated roof, which has been constructed over open gym space below and proved to be a great challenge for the team.
A significant advantage of progressive design-build delivery included our ability to identify challenges with fabricating, assembling, and erecting the rooftop canopy in the early stages of design. The project team leveraged its collective expertise and closely coordinated with the structural steel contractor and
engineering teams to devise an inventive and efficient strategy. Their solutions-oriented teaming efforts led to a componentized design that could be assembled offsite, enabling safer working and installation environments, and saving the District more than $2M. Additionally, the canopy reduces the energy consumption of the building by decreasing the solar heat gain to its second floor and increasing shading to the roof.
"Seeing our team's efforts come to life on such a prominent site, commanding panoramic views in nearly all directions, is quite exciting. The project involved a talented team of architects, designers and engineers, together with our innovative construction partners at Blach who crafted and delivered a beautiful project," said ELS President and CEO, Clarence D. Mamuyac, Jr., FAIA. "Being a part of such a significant campus building for the District is a big honor, one that I share with our entire team. Most importantly, the Kinesiology and Wellness building will be an important education and health benefits resource to the San Mateo community for decades to come."
Constructing the Kinesiology and Wellness building was made possible by several skilled AEC partners. Swinerton served as construction manager and as a result of the progressive design-build collaboration, Blach was able to self-perform a great deal of the concrete work, most notably the retaining walls, exposed concrete walls, foundation/footings and concrete decks. The seasoned roster of Bay Area design partners and trade contractors also included several other firms, namely CPI Daylighting Inc., Forell/Elsesser, SWA, Robert A. Bothman, AGC, Intermountain Electric, KDS Plumbing, RCM Fire Protection, Glazier Steel, B.T. Mancini and Royal Glass.