Project Team Blach Construction and Arris Studio Architects to Oversee Extensive Renovation of 68-Unit Affordable Housing Complex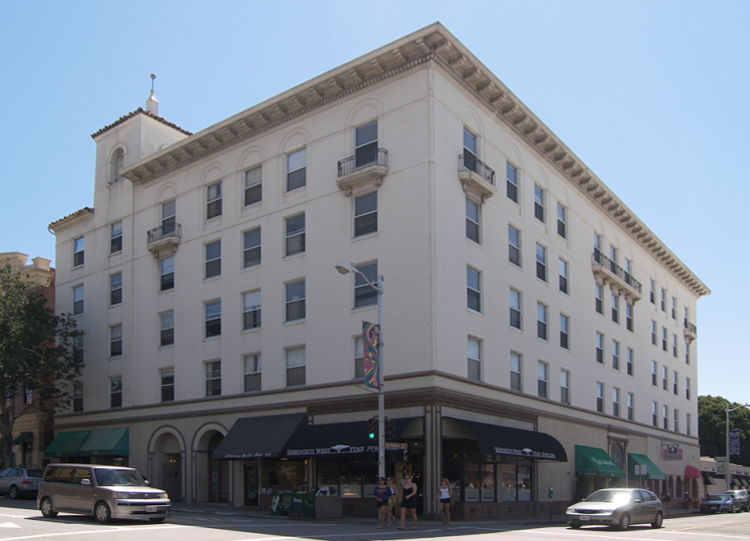 "Renovation of the Anderson Hotel is a highly rewarding project that tightly aligns with Blach's purpose as a service-minded builder focused on enhancing communities."
Significant rehabilitation is now underway for the Housing Authority of San Luis Obispo's (HASLO) historic Anderson Hotel in downtown San Luis Obispo. HASLO recently completed the purchase of the five-story, 68-unit apartment complex on Monterey Street and is undertaking seismic and structural upgrades to the building to ensure it safely continues to provide critical affordable housing for the community. Blach Construction is serving as general contractor on the project with Arris Studio Architects as designer.
"After leasing the Anderson Hotel for 25 years, we are thrilled that HASLO's recent purchase of the building will allow us to begin this necessary renovation and preserve the historic structure's affordable housing status for those most in need," said Scott Collins, executive director of HASLO. "Getting to this point has been thanks to the collaborative efforts of the city, county and our dedicated project team. We applaud the level of commitment shown by everyone involved. Together, we can ensure long-term access to safe and stable housing."
The 37,000 sq.ft. 1920s-era building has historically housed the county's most vulnerable residents, primarily seniors with disabilities or special needs. The complex includes a mix of 68 studio and one-bedroom units for tenants, two of which will serve as manager apartments. The rehabilitation project will greatly improve the building's structural stability, energy efficiency and accessibility, while maintaining the integrity of the building's existing historical design. Work includes structural seismic upgrades, new windows, energy efficient lighting and appliances, as well as fire sprinkler, plumbing and electrical upgrades. Several units and all restrooms will also receive accessibility upgrades.
"Renovation of the Anderson Hotel is a highly rewarding project that tightly aligns with Blach's purpose as a service-minded builder focused on enhancing communities," said Kevin McIntosh, project executive at Blach. "The need for increased affordable and supportive housing throughout California is severe. To this end, we are proud to work with HASLO and its stakeholders to preserve a building that will have a significant and positive impact on in-need members of the San Luis Obispo community."
HASLO took great care in relocating existing Anderson Hotel tenants. If desired, tenants will have the ability to return to the complex once renovations are complete. Additionally, retail tenants located on the Anderson Hotel's main level have been relocated temporarily, pending
the completion of structural upgrades, sidewalks and exterior hardscape. These longtime local businesses include Anderson Barber Shop, Mannikins Tailoring and SLO Piercing. Once safe access to their storefronts is restored, they'll move back in.
All renovations of this much anticipated preservation project are slated to complete by Fall 2024.