Celebration Marks Another Successful Collaboration for Long-Time District Partners Quattrocchi Kwok Architects and Blach Construction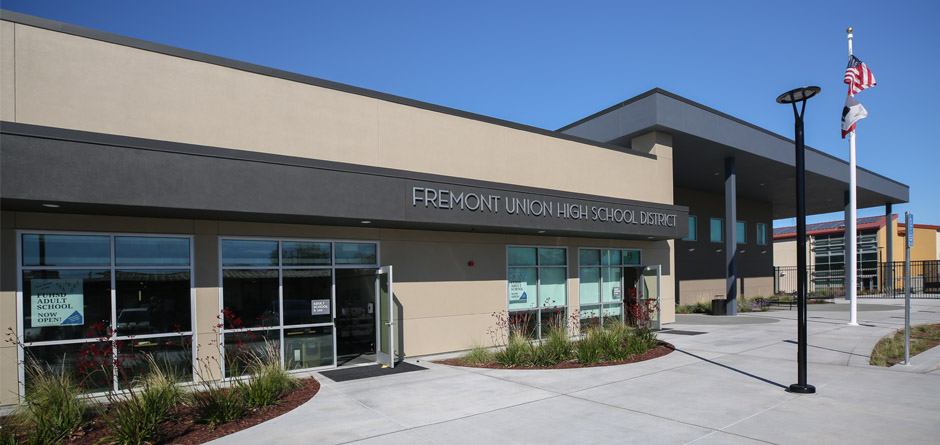 "It is so rewarding to partner with a client that shares a commitment to enhancing their community."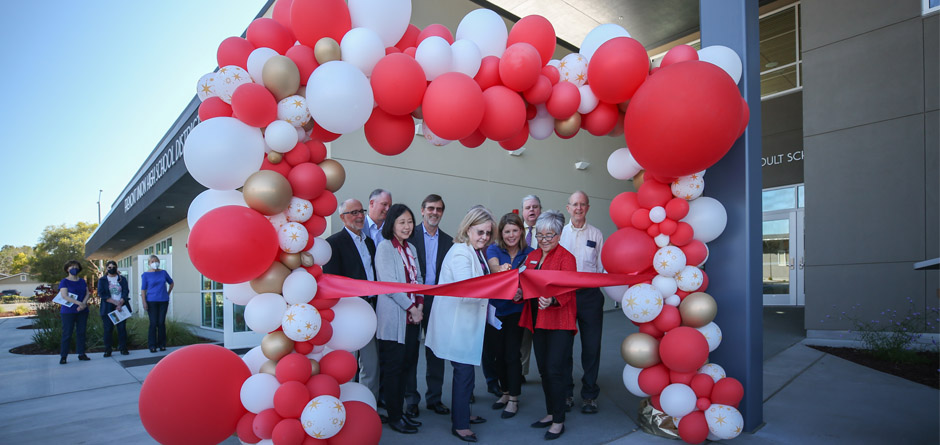 "It is so rewarding to partner with a client that shares a commitment to enhancing their community."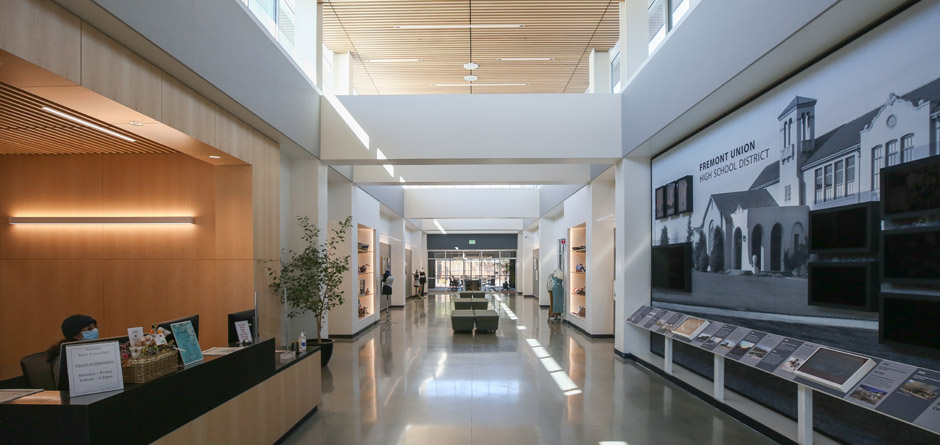 "It is so rewarding to partner with a client that shares a commitment to enhancing their community."
Sunnyvale, Calif., March 23, 2022 – Along with community members, staff, students and members of the project team, Fremont Union High School District (FUHSD) yesterday celebrated the completion of its new District Office and Adult School Building. The new facility introduces 27,000 square-feet of state-of-the-art education, administrative and support spaces and replaces a previous building that needed extensive structural repairs. Designed and built by long-time project partners Quattrocchi Kwok Architects (QKA) and Blach Construction (Blach), the new building includes a multimedia "District History" display in the main lobby, showcasing FUHSD's nearly 100 years of educating the community.
"The completion of our new District Office and Adult School represents an exciting new phase of enhanced offerings and increased connection to our schools. Not only does this multi-purpose building double as a modern home for district operations and comprehensive Adult School, it serves as a central hub that facilitates access between our schools, community members and district administration," said Polly Bove, FUHSD superintendent. "We are incredibly proud of our history, so it is especially gratifying to be able to publicly share the contributions our faculty, staff, students and alumni continue to make. Thank you to our supportive community and trusted project team for making this inspiring space possible."
Combining the FUHSD District Office and Adult School under one roof, the new facility provides an enhanced work environment for staff, faculty and students, alike. The District Office features new offices, professional/continuing education rooms and a new board room for public meetings. The portion of the building dedicated to the Adult School includes administration space and flexible classrooms designed to support a range of course offerings, such as English as a Second Language (ESL), GED preparation and citizenship preparation.
"It is so rewarding to partner with a client that shares a commitment to enhancing their community," said Blach President Dan Rogers. "Over the years, we've had the great fortune to be involved in several very impactful district-wide projects that support FUHSD's dedication to providing comprehensive and equitable educational opportunities. Now, we're incredibly honored to deliver their new District Office and Adult School, a long-awaited building that celebrates their history and inspires continued success."
Driven by FUHSD's desire to foster a greater connection to its schools and community at-large, the project team commissioned an exhibit house to deliver a historic display, prominently located in the building's lobby. The unique installation uses physical and digital media to feature student work and the District's significant, nearly 100-year history.
"Our ongoing partnership with FUHSD has allowed us a deep understanding of its mission of connection to its schools and community," said QKA President and Principal Aaron Jobson. "It is gratifying to know that the District and community now have greatly enhanced spaces to support learning and operations, and we look forward to watching as history continues to be made here."
The new FUHSD District Office and Adult School was funded in part by the community-supported Bond Measure CC. It was designed to meet or exceed all requirements of the California Green Building and Energy Codes and features energy efficient mechanical equipment, low-VOC materials, stormwater filtration and sustainable landscaping. Now fully open and home to all administrative operations, the District is excited to present this new resource to the FUHSD community.
 About Fremont Union High School District
Founded in 1923 and located in the heart of Silicon Valley, the Fremont Union High School District is consistently recognized as one of the most respected and highest performing high school districts in California. The District's five comprehensive high schools – Cupertino, Fremont, Homestead, Lynbrook and Monta Vista – have garnered many honors and accolades based on the outstanding achievement of our students and District programs designed to support their success. Beyond academics, students in our five schools participate in a wide range of activities, including leadership, athletics, speech and debate, Future Business Leaders of America, student publications and the visual and performing arts.
About Blach Construction
Founded in 1970, Blach Construction builds structures of enduring quality and value throughout California. The firm's experience encompasses a broad cross section of education, housing, institutional, mixed-use and workplace building types, translating into a diverse portfolio that includes civic/community, healthcare, K-12 and higher education, hospitality, life sciences, professional services and technology facilities. With fluency in traditional and collaborative delivery methods – and true to their Silicon Valley roots – Blach continually incorporates advanced, innovative construction techniques, leveraging in-house prefabrication, self-perform and virtual design and construction expertise to offer greater efficiencies to projects and increased value to clients.
The firm consistently wins awards across the construction industry and general business community for projects, innovation, employee engagement and community service. Quality and safety are at Blach's core. As a result, they are continually ranked as a "Top Contractor in California" by Engineering News-Record and have received multiple "Construction Safety Excellence Awards" from the Associated General Contractors of California. Additionally, and as a testament to their company culture, Blach has been recognized repeatedly since 2009 as a "Best Place to Work" in the Bay Area by the Silicon Valley Business Journal/San Francisco Business Times.
Blach is headquartered in San Jose with offices in Monterey and Orange County. To learn more, please visit blach.com and engage via LinkedIn.
About Quattrocchi Kwok Architects
QKA provides comprehensive master planning and design services for K-12 and higher education, historic renovation and community facilities in Northern California. With more than $2.5 billion in projects completed in its 35-year history, QKA's award-winning portfolio reflects a commitment to design that emphasizes environmental sustainability and community impact. Building Design + Construction has recognized QKA as one of the nation's top K-12 and BIM (building information modeling) architecture firms. Engineering News-Record has called it one of America's top design firms. Majority employee-owned through an Employee Stock Ownership Plan (ESOP), QKA continually lands on the North Bay Business Journal's "Best Places to Work" list. Visit qka.com to learn more.