Building a More Diverse Blach
February 28, 2022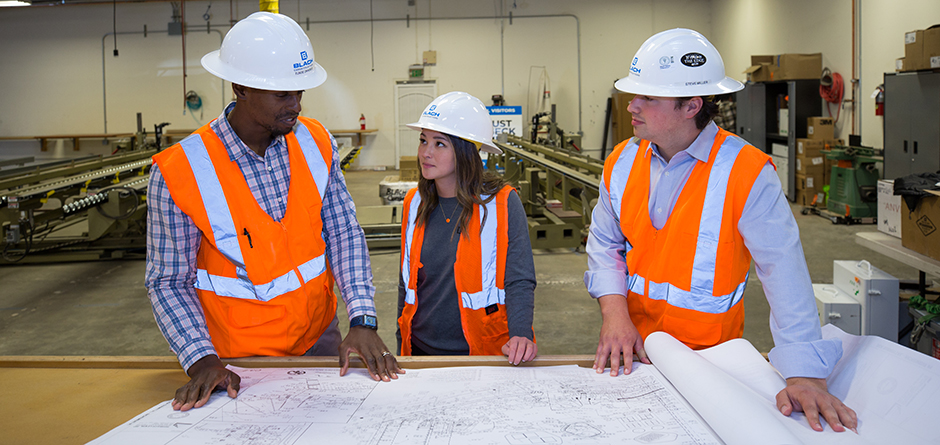 In its most recent issue of California Constructor, the Associated General Contractors of California (AGC CA) celebrated Black History Month with editorial on "Increasing Black Representation in Construction." Blach was honored to be included in this article, where two of our valued project managers, Babatunde (Tunde) Onadele, Jr. and Sofia Hardy, lent their perspectives and shared insight into what Blach is doing to increase diversity, equity and inclusion (DEI) for the Black community. Tunde reinforced that "We want to truly inspire change," which is exactly why Blach has created a strategic initiative to do just that.
During Summer 2020, when our country was reeling from the death of George Floyd, we decided to more closely examine and refine our DEI efforts. Our Leadership Team, who had been approached by Tunde, Sofia and our other Black colleagues, welcomed their concerns openly. Together, they devised an actionable, measurable and evolving plan to increase Black representation throughout Blach, beginning with college recruiting.
Working off our established and robust recruiting program, Blach's HR Team started collaborating closely with Tunde and Sofia, adding them to the interview team responsible for hiring both college students and recent graduates. Collectively, they reviewed the college campuses where we typically recruit, making a quick and concerted effort to extend our reach onto additional campuses and expand our pool of qualified Black candidates.
Another critical, related and near-term initiative they identified pertains to retention. Blach is fortunate to enjoy a very high retention rate, but we do not take this for granted. In addition to generally mitigating potential resignation ramifications of the pandemic, we are providing ongoing unconscious bias and other necessary training to espouse and promote equality among our entire employee base.
There is still much work to do. Currently, according to the article, Black employees represent a mere six percent of the construction workforce overall. Blach stands firm in its commitment to do its part to increase this statistic. We aim to ensure that by 2025, 50 percent of our new hires are from underrepresented groups. In addition to hiring more people of color, Blach has pledged to increasing minority representation at every level in the firm. Sofia was clear that she appreciates "…the purposeful attention put toward this….and is excited to see what's to come."
As Antonio Payne, CFO for the Society for Marketing Professional Services (SMPS), a national network of A/E/C marketing and business development professionals, recently and aptly stated, "Systemic barriers are neither created nor torn down overnight." So, like much in construction, this is going to take time. And for Blach, this will be time very well spent.